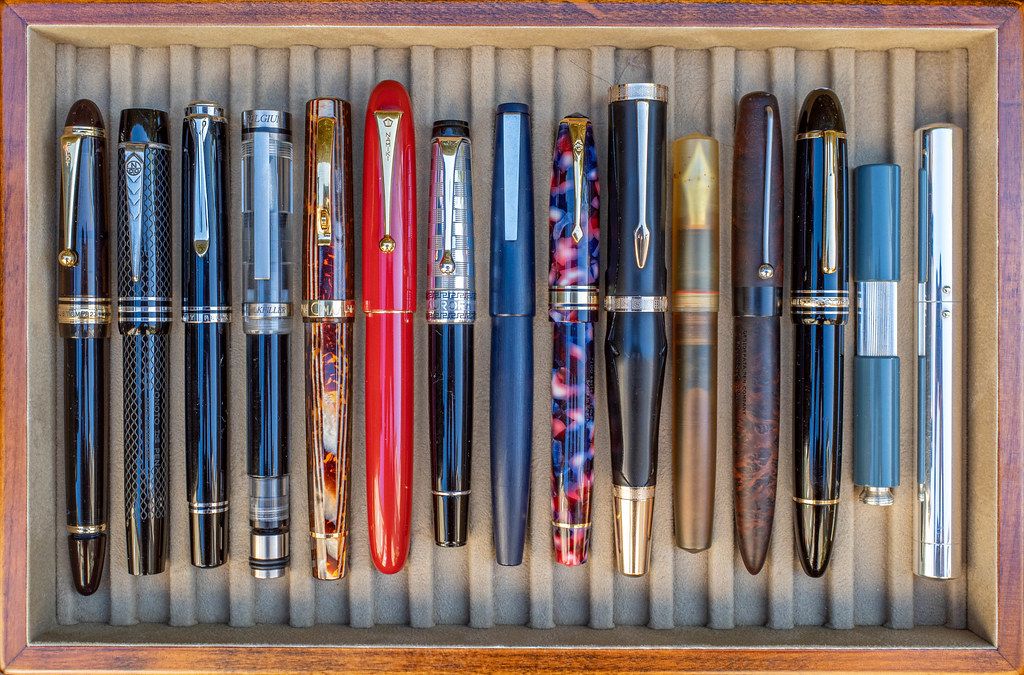 It has been a while since I wrote in much detail about my fountain pens and a lot has changed since 2012 and 2016. So here is 2022's State of The Pens, presented in the order that I bought them, with a paragraph about why I enjoy each.
I am trying to keep my pens in use to a number that fits in this display tray and only keep pens that delight me in some way.
Pilot Custom 823
This was my gateway into the world of 'grail' pens, a pen that — at the time — I could only order directly from Japan. It has a relatively rare vacuum filling system, a huge ink capacity and a gloriously smooth nib. For me, it's important that I can pick-up a fountain pen after a few weeks break and it starts writing immediately. This is an excellent example of a pen that meets that requirement.
Onoto Magna Classic
This British-made pen has my first custom-ground nib from John Sorowka, a wonderful pen technician based in Oxford who has worked on a number of pens and I have always been delighted with his work. It's perhaps a slightly staid design pen but pays homage to classic British pens and the nib is glorious. My only real issues with Onoto pens are the clips are very stiff being silver and the cap takes a lot of turns to put on and off.
Pelikan
M805
These first three pens don't excite me as much as they once did, but they have paid me back with long-service, great nibs and reliable writing. The Pelikan M805 is a really boring-looking pen but a great writer with a very fine line and is the perfect size for my hand. In my case this is, literally, the pen against which all others are measured!
CONID

Bulkfiller

CONID pens are made in Belgium and feature a very clever filling mechanism. The design of this pen, the 'demonstrator' transparency plus the Titanium nib make this a pen that appeals to the engineering part of my brain. The 'section' — the part you grip — is particularly comfortable.
OMAS

Arco Celluloid

Since OMAS went bust these pens, and especially Arco Celluloid models, have become incredibly collectible. I prefer my pens to have silver 'furniture' but I think the warm, brown colours of this pen work beautifully and chatoyance is glorious! This pen has dropped nib-first onto Crewe Road North in Edinburgh but was repaired by John Sorowka and is a lovely bouncy wet pen.
Namiki Emperor Yurale
The pen I treated myself to when my wife retired young from the NHS. A beautiful large nib and heavy brass body coated in a very lovely urushi finish.
Aurora Art Deco Silver
At one time I owned a few Aurora pens because they have very solid nibs that people either love or hate. They are one of the few manufacturers to make their own nibs and they are very stiff nibs but I find them a pleasure to use and a very comfortable pen to hold. When I downsized my pen collection this was the only Aurora I retaining, reasoning I needed to keep at least.
LAMY

2000 Bauhaus

The LAMY 2000 is a design classic from from 1966 and colours other than black don't come along often. This special edition was to celebrate the 100th anniversary of the Bauhaus movement, came with only one nib width (extra fine) and a very subtle blue colour.
Conway Stewart Nebula 100
I always wanted to try a Conway Stewart pen as a British brand I had never used. When one came along secondhand at a good price I couldn't resist trying it. This is a pen that has stuck around, I love the colours of the body, it is light and comfortable with a great fine gold nib.
Montblanc
'

Homer' writers edition

Over-the-top, like many Montblanc specials this pen celebrates the the writer Homer, if they even existed are was certainly not a writer. The design features nods to classical greek art and design such as a stylised horses head and clip shaped like a bronze spear. I was a bit of an inverse snob about Montblanc but have never had a bad one.
Schon Design Ultem / King of Pens
This is a bit of an oddity. It's a translucent pocket pen from a US maker called Ian Schon and I have transplanted an enormous Sailor King of Pen nib into it and converted it to an eyedropper where the whole pen body is full of ink. Great nib, very lightweight and huge capacity.
Desiderata Soubriquet
Desiderata Pens is a one-man pen company that started making pens with very flexible nibs in the USA but now Pierre makes general fountain pens out of very delicate stabilised wood and makes everything for the pen except the nib. This is really unusual. I fitted this pen with a cursive italic nib made by John Sorowka. The end result a pen that writes a lovely variable line on smooth writing paper but can be unforgiving on rough paper. I wish the wood were a little lighter in colour, but that's the consequence of buying something that's completely bespoke.
Montblanc 149
I always thought of the Montblanc 149 as a boring executive's pen but they are a classic for a reason. This particular model was bought secondhand to try and has an extra-fine nib that is very comfortable to use. Montblanc nibs are consistently good and this is a great workhorse pen.
Elbwood POCKETmaster
Elbwood pens is another one-man pen maker and the design of this little pocket fountain pen immediately spoke to me. The machined quality of the metal parts is wonderful and the result is jewel-like.
Otto Hutt Design C
Another pen that celebrates a 100th anniversary, in this case that of the German pen maker Otto Hutt. This pen is a real statement of Bauhaus minimalism in silver, designed by Mark Braun. This pen is simply stunning!
Posted on October 2, 2022
#Stationery