In hindsight 2015 looks like a mixed-bag for buying new music. While I've picked-up quite a few albums, when I look down the list, I don't have particularly warm feelings for many of them.So much so that I've just deleted Flying Saucer Attack's eponymous instrumental album. John Grant's follow-up to Pale Green Ghosts turned out to be somewhat disappointing — not bad, but certainly not great.
So what were my favourite five tracks of 2015?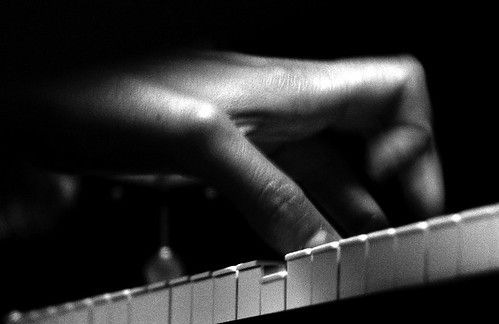 Photo by David Denicolò
##Go! by Public Service Broadcasting
As a child of the 60s and 70s the album The Race for Space was always going to be irresistible to me. I enjoy every track on the album but this one (the soundtrack of the descent of Apollo 11 to the moon) is the standout track for me.
Sweet Wine by Duke Garwood
I confess I had never heard of Duke Garwood before this album. This is just such a beautifully, pared-back, meditative blues song.
Lovers and Strangers by Day One
This song is taken from the album Intellectual Property, Day One's third album since 1998. Again this is from an artist I had never heard of but it was offered through my Society of Sound subscription and is a very pleasing fusion of folk and hip-hop.
Although I don't feel it's been a fantastic year for new music, Society of Sound has been a very rewarding way to find new music and is good value for money if the diverse music they offer appeals.
Fresh Feeling (Live) by Eels
If there is an Eels album released in any given year there's a good chance one track from it will make my top five. This song is taken from the live album Royal Albert Hall.
On the Motorway by Bill Wells & Aidan Moffat
Aidan Moffat's spoken lyrics on this opening song to the album The Most Important Place In The World are dark, funny and menacing with the sound of ticking clocks and windscreen wipers. The whole album is dark and brooding — brilliant but one for playing during a long dark night of the soul.
Bonus material
Film of the year
There's really no doubt about the film of the year for me. I've enjoyed watching how the storytelling coming out of Pixar has matured and Inside Out was a wonderful example of this. It had a great story, clever ideas, humour and tremendous subtlety.
Non-fiction book of the year
Stuff Matters: The Strange Stories of the Marvellous Materials that Shape Our Man-made World by Mark Miodownik.
Fiction book of the year
Ghostly: A Collection of Ghost Stories by Audrey Niffenegger.
Posted on December 31, 2015
#Music