I love listening to music and generally listen to it on one of two ways; via my phone at work and when on the move or through the hi-fi at home. Being a bit of a night owl compared with the rest of my family compared with the rest of my family I often end up listening to music through headphones at night and this is where things become less satisfying.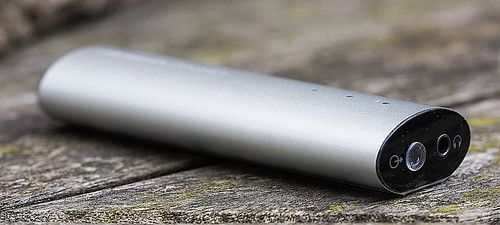 The experience of being tethered to the hi-fi by a headphone lead stretched over the sofa takes away some of the pleasure of listening to music. Most of the music I listen to is streamed from my MacBook's iTunes library via an Airport Express into the hi-fi. WHile I could just plug the headphone directly into the MacBook, it simply doesn't sound good enough.
When I recently learned about the Meridian Explorer DAC I was immediately interested as it appeared to solve a number of problems. It would allow me to listen to music more easily and also shorten the signal path from source to ears. A quick trial in my local hi-fi shop was convincing enough for me to blow the last of my birthday money on one.
The DAC unit itself is relatively tiny (Just 10cm long by 3cm wide) with a USB input at one end and two outputs at the other end. It's styled in the same way as Apple products with a simple brushed Aluminium case, three unlabelled white LEDS and the Meridian logo. Connected to a Mac (or MAC as Meridian ANNOYINGLY call them) it's a plug-and-play device with no need for any additional software. Despite its small size it will happily drive headphones such as my Grado 325 with ease.
So it's basically a simple little box that sits between a computer and a pair of headphones? How doe it sound? In one word — marvellous! I used William Fitzsimmons' track Beautiful Girl as my test piece and the sound quality is an order of magnitude better than just driving headphones directly from a computer with clear improvements to every aspect of the music and vocals. It's right up there with using a dedicated headphone amplifier. Each time I hear the difference I just have to smile. This little box is a great way to listen to music and enjoy it more.
Posted on September 21, 2013
#Music