I try to drink plenty of water. When I'm at work, in a stuffy office environment, it helps to keep me refreshed and (nearly as important) ensure I get up and move around regularly. In general I find that I feel better if I drink regularly and stay hydrated. I avoid using bottled water because it feels wasteful so I prefer to carry a water bottle and top it up whenever I can.
I've been trying to find my perfect water bottle for quite some time and I think I've finally reached the best solution.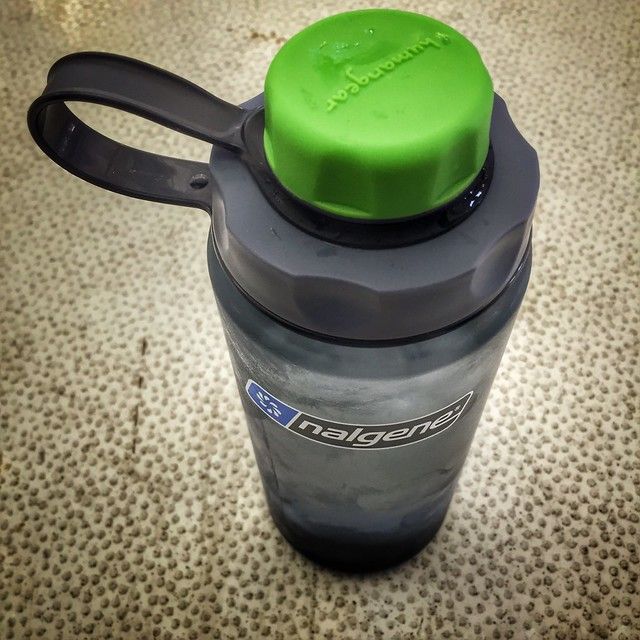 I do have a number of specific requirements:
I prefer to drink from a spout rather than a

'

sports cap' or teat.
(At this point my wife, the Freudian psychiatrist, would glance over at her spouse — reflect on the fact he was adopted and bottle-fed as a baby — and raise one eyebrow)
I want a bottle that does not taint the flavour of the water or leech chemicals.
My bottle needs to be lightweight and tough.
My bottle needs to be reliably leak-proof.
Ideally I would want my bottle to be insulated or be able to add ice to the water.
The bottle needs to be easy to clean.
So what have I tried?
##Sigg water bottle
The Sigg bottle is, quite rightly, a classic. Being Aluminium it's light and tough and, because it's coated on the inside, there's no flavour from the metal bottle. On the other hand the neck is very narrow and that makes it hard to clean and impossible to force any ice cubes into the bottle. [4/6]
##Camelbak Chute
CamelBak water bottles are lightweight BPA-free plastic, free from any taint and the Chute range is free from the bite valve that breaks requirement 1 above. I particularly appreciate that the spout of the bottle has the screw thread on the inside. The body of the bottle has a really wide neck and there are insulated models available.
In my experience CamelBak bottles are prone to leaking between the cap and bottle after some use and this counts against them. [5/6]
##Kleen Kanteen
The Keen Kanteen is similar to the Sigg bottle but with a huge wide neck that means it's really easy to add ice cubes to the water. Being metal, it does get very cold to the touch compared to a plastic bottle and I dislike the metallic taste when drinking from the bottle. [5/6]
##Lifefactory Glass Bottle
The Lifefactory bottle is a really neat design. Drinking from glass is probably the sweet spot for keeping water tasting fresh. The bottle is wrapped in a very attractive silicon sleeve and the cap is really wide to allow adding ice. The only downsides for me are that glass is just a bit heavy and the opening is too wide to drink from comfortably (similar to drinking from a very deep jam jar). [4/6]
##Nalgene bottle fitted with CapCap lid
I trust nalgene bottles and used to carry them regularly for hillwalking — they're tough and lightweight and I really like the laboratory equipment styling. On the other hand the lids are rubbish. Enter the HumanGear capCAP, a replacement lid that converts a wide-mouth bottle into something more pleasant to drink from and with a great seal and rubberised cap that's really easy to remove and secure. Perfect! [6/6]
I'm satisfied with my final choice but aware of the irony that I've bought a lot of water bottles to avoid being wasteful. Happily, my immediate family have generally fallen in love with my cast-offs and are happily using them.
Posted on November 5, 2015
#Design