A few weeks ago I wrote about the experience of buying a kindle and the initial experience of setup and use. I am still enjoying reading books on the kindle and the ability to buy books wirelessly rather than using a computer to manage my books. I would really like the kindle to support ePub books but will happily live without that capability.
The kindle doesn't come with a case or cover and, while I am happy to use my iPhone without a case, I have an impression (perhaps wrongly) that the kindle screen is quite fragile. The iPhone feels very solid and has already survived some spectacular falls onto tarmac without harm. I was keen to get a cover or case for the kindle as quickly as possible however I tend to be over-picky, and the choice of kindle cases available through Amazon UK is pretty unimpressive at the moment.
I initially favoured the slip-case style such as those from Foof and Mrs Hicks as I have used these in the past and like them very much. In the end though I decided to go for a leather flip cover. Browsing the range available on the US Amazon store I was impressed with the look of the leather covers from Octo, particularly the 'distressed' leather they use. Unfortunately amazon don't ship these to the UK.
I contacted Octo directly, and with some help from the marvellous Elle, am now the very happy owner of a Vintage Book Cover for Kindle 2.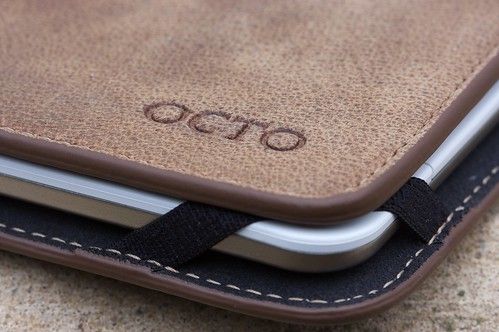 When this arrived I was pleasantly surprised at the quality of the packaging. Like the kindle itself, some thought has gone into the design of the packaging and instructions and I really applaud this focus on design and making the first use of a product a pleasure. The packaging is very minimal, makes much use of recycled materials and uses a clean modern design.

The cover itself adds a surprising amount of bulk and weight to the naked kindle but really feels as though it will protect the device when required. The leather feels as though it will soften and age beautifully, unlike its owner. Carrying and handling the combination feels like using a very nice notebook like a Moleskine and suddenly looks less like a strange gadget and more like a book.
Posted on January 15, 2010
#Design