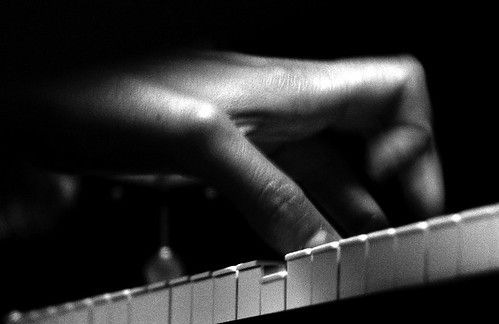 Photo by David Denicolò
Once again I've stolen the concept of a 'Festive 5' from a friend who's been compiling a list for some years now. The idea is you boil your favourite music released in one year down to just 5 tracks. This is my choice for 2012.
John Taylor's Month Away - King Creosote & Jon Hopkins
There is absolutely no doubt about my song of the year, or indeed my album of the year. This is the opening track of an album that was actually released in 2011 but I'm going to sneak this one in because (a) I bought the Jubilee Edition that was released in 2012 and (b) it's that good! This is my game and I make up the rules…
I really enjoy the way the track opens from a 'field recording' in the Fife Vernacular then morphs into a song about the sea. This album is inspired by the East Neuk of Fife, an area I know very well as I grew up further round the coast of Fife.
Redbud Tree - Mark Knopfler
If you only know Mark Knopfler from Dire Straits albums, his solo work might come as a bit of a surprise. This album is full of folk, country and blues songs and there are lots of them. In the olden days this would have been called a 'double album' and there are no duff songs in there. The other two standout tracks for me were the title track 'Privateering' and the haunting 'Dream of The Drowned Submariner'.
Behind The Stars - Esbjörn Svensson Trio
I've spent a lot of time listening to my 'work' playlist in 2012. This can be a good thing as it's also the music I listen to when I'm not working; like reading, writing for leisure or editing photos. I've always prepared to work with music in the background, preferring music that's not over intrusive but still has presence. A little bit like Ian Rankin, I've built up a list of favourite music that creates a bubble I can work inside. This playlist includes a disproportionate amount of Nordic jazz featuring other artists such as Lars Danielsson and Helge Sunde.
This track is from the album '301'.
Wolf - First Aid Kit
More Scandinavian music! First Aid Kit are a Swedish folk duo made up of two sisters who sing folk songs with a definite American influence. This song is taken from the album The Lion's Roar which is also available as an excellent iTunes Session.
Let Us In - Craft
I discovered 'Craft' the band and album through The Bowers & Wilkins http://www.bowers-wilkins.co.uk/Society_of_Sound. This is a subscription service which offers two albums a month for download in either studio master quality or as an Apple lossless audio file. Craft is a group of musicians from the south of England and their sound is a well-crafted mix of soul, hip-hop and pop sounds.
It's always a battle getting this list down to just five tracks — even Desert Island Discs starts you with eight. I would have loved to have squeezed in Anais Mitchell's moving song 'Shepherd' from her album Young Man In America and 'A Short Blues' from James Yorkston's wonderful album I Was a Cat from a Book.
Posted on December 31, 2012
#Music