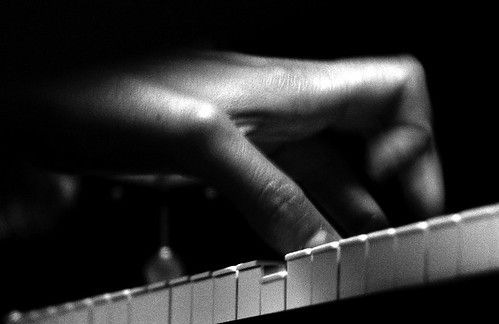 Photo by David Denicolò
Once again I've stolen the concept of a 'festive 5' from a friend who's been compiling a list for some few years now. The idea is you boil down your favourite music released in one year down to just 5 tracks. This is my choice for 2011.
The Phoenix Foundation - Buffalo
I think Buffalo was my first album of the year and one I really enjoyed playing a lot. I chose the title track as it's not my usual acoustic guitar-driven music - there are synths and stuff!
The Decemberists - June Hymn
Almost every song from the Decemberists album The King Is Dead could be on my list of the music of 2011. The album is pretty evenly divided between mellow tracks like this and more bombastic stuff such as This is why we fight and Rox in the box. If I were to get all Jilly Goolden on this album I would say there are subtle hints of of Eagles, Neil Young and REM in this album but their own distinct sound dominates.
This album is the equivalent to last year's Hadestown — a classic that will stand the test of time.
SMOD

- Ambola

Guitar-driven hip hop from Mali is a bit of a departure for me - I first listened to SMOD because Sam (of Sam and his friends Mouzy, Ousco and Dronsky) is the son of Amadou and Mariam who recorded the album Welcome to Mali with Damon Albarn. You can get a flavour of them playing this track live here on [You Tube(http://bit.ly/ukAae2).
Roddy Woomble - Tangled Wire
Taken from Roddy Woomble's album The Impossible Song and Other Stories this is a gentle Scottish road trip song.
Dub Colossus - Feqer Aydelem Wey
This track is from the album Addis Through The Looking Glass and I get very excited by the brass section in this song and that energy is why I keep coming back to it. Dub Colossus is a collaboration between Nick Page and Ethiopian singers and musicians. The sound is a blend of Ethiopian Jazz, dub and reggae.
There were a lot of really good songs that didn't make the cut, and it was a really difficult task cutting music from this year down to just five tracks. I would have liked to have included Paulo Nutini's cover of Beeswing from the Dermot O'Leary Radio 2 Saturday Sessions album. Like last year, there were many tracks I would have liked to find space for including some from Peter Gabriel's New Blood album, Brian Eno's Drums Between The Bells and June Tabor and Oysterband's collaboration Ragged Kingdom.
At the end of the day this list is the music I've enjoyed and listened to most often this this year.
Posted on December 31, 2011
#Music