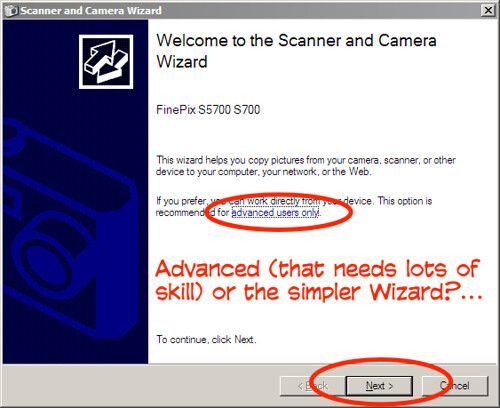 I love Microsoft's 'Wizards', I really do! They seemed designed to break every single task they carry out into the most frustrating experience possible. Take this example (from Windows XP) designed to copy files from a camera…
I can either follow the Wizard or can take the option for 'advanced' users. I don't like the sound of that — it must be tricky!
What are the differences?
Wizard
Click Next
Select/deselect required pictures
Click Next
Give the group of pictures a name
Select a destination folder
Click Next
Select what you want to do with the pictures. I don't want to publish them or print them so

I…

Click next
Read the summary of what the wizard has done
Click Finish
Advanced Users
Click the

advanced users

link
Open the destination folder
Drag the files from one window to the other
Admittedly this omits the steps to open the destination folder. This is something that will be familiar to any Windows user, so a fair omission. I think every time I've been offered a Windows wizard, there is a better, simpler, way to carry out the task that's been covered.
Posted on April 30, 2012
#Software