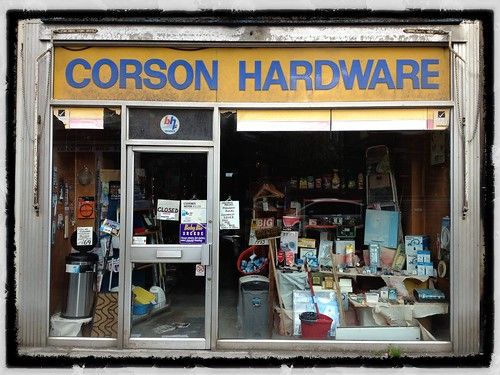 If you've been following me on Twitter you may have occasionally seen the hashtag #Corson appear in there. 'Corson' is a game invented by Professor Richard Williams and the aim is to buy something from the eponymous hardware store in Edinburgh.
Basically the aim of the game is to manage to buy an item of hardware from this store. Extra points are gained if a player manages to make Corson use a ladder to find the item requested. On the other hand, points are lost if Corson is able to deny a request or has any grounds to deny a sale on the grounds that it is inadequately defined. This rule may seem to be unlikely but Corson's is the sort of establishment where any ambiguity over four candles, plugs, saw tips or o's may be crucial.
The man Corson is something of a mystery. Some have speculated that he is a retired assassin in the mould of Gatehouse from the BBC drama 'Shadowline'. Others think he may be a world class line dancer. Whatever the reality, the man is an enigma. It's important to note that Corson is not aware that he is a player in this game.
Despite recent attempts to buy some hardware from Corson I've been defeated at each play —  by a poor choice of bulb or 'early closing' or by closing for the weekend. Today though, I managed to score a single point for a straightforward purchase of picture hooks. Next week I will play a riskier strategy; maybe a pair of angle brackets I have no real use for…
Posted on December 1, 2012
#Edinburgh